As we age we often look back at our lives - sometimes in fondness, sometimes perhaps in dread. Sometimes we look at movies or songs we enjoyed in our youth and can't believe how different they seem now.
For example, the movie Back to the Future. Did I realize at age 11, when it was my favorite film, that it contained incidents of racism, incest and attempted rape? Certainly not. Did it occur to me at age 10 that The NeverEnding Story appears to be an appropriate film to screen at NAMBLA movie night? No way, Jose.
And what about music? Could I have possibly known as a young boy what Frankie Goes to Hollywood's "Relax" was really about? Or Cyndi Lauper's "She Bop?" Cyndi wasn't quite as blatant about it as Divinyls would be a few years later; although, today it seems completely obvious.
I recently thought of the classic line from "Weird Al" Yankovic's "One More Minute":
'Cause I'm stranded all alone in the gas station of love
And I have to use the self-service pumps
.
I didn't know what that meant as a 10-year-old. Who was Yankovic to throw such PG-13 lines out there when so many of his fans were little kids? Booger jokes, Al! That's what kids want. Not thinly-veiled masturbation material.
And then there was The Wrestling Album. Anyone thumbing through my small vinyl collection at the time would immediately have noticed the standouts: a couple of Sha Na Na records, an absurd number of Al Yankovic albums, and the two famous World Wrestling Federation albums.
They were the pride of my young record collection, particularly that first one, the cover of which was like Sgt. Pepper for wrestling, featuring the likes of "Macho Man" Randy Savage and his valet Elizabeth, the Junkyard Dog, the Killer Bees, Captain Lou Albano, Hillbilly Jim, Jesse "the Body" Ventura, and Vince McMahon himself. Then even the back cover featured "Mr. Wonderful" Paul Orndorff, Ricky "the Dragon" Steamboat, Brutus Beefcake, The Missing Link, and more. It was marvelous.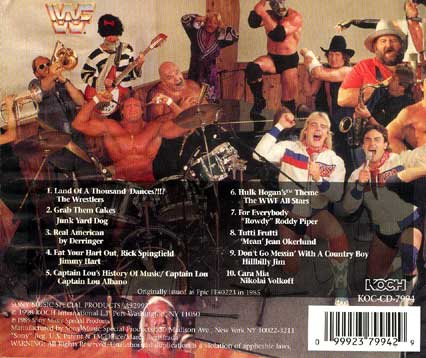 My favorite song on that album, of course, was the cover of "Land of 1,000 Dances," an inexplicable idea for a recording, featuring practically every wrestler on the WWF roster at the time on vocals, from Bobby "the Brain" Heenan to King Kong Bundy to "Special Delivery" Jones.
There were other great songs: the classic "Real American," performed by Rick Derringer, and the at-the-time-of-the-recording theme song for the U.S. Express tag team of Barry Windham and Mike Rotundo. That was until they both left for the rival National Wrestling Alliance and the song was given to Hulk Hogan.
There was "The Mouth of the South" Jimmy Hart's tune "Eat Your Heart Out, Rick Springfield," a song I remember playing for a friend, to which she said, "Is this Sesame Street?"
But my favorite, after "Land of 1,000 Dances," of course, had to be "Rowdy" Roddy Piper's "For Everybody," a wonderful tune for a wonderful heel. At the time that this record came out, I had requested that my guitar teacher transcribe this song for me so I could play it. He chuckled upon hearing it and I didn't understand why at the time.
It wasn't until adulthood that I realized that the title of this song wasn't supposed to be "For Everybody." That made no sense in the context of the song. What was supposed to be understood was that Piper and everyone contributing to the background vocals were really saying, "Fuck everybody."
Fast forward another few years and I learned that "For Everybody," like the WWF's recording of "Land of 1,000 Dances," and other songs on the album, including "Mean" Gene Okerlund's "Tutti Frutti" and Nikolai Volkoff's "Cara Mia," was a cover.
I had no clue. The other songs, of course they were covers. Everyone knows those songs. Everyone knows Little Richard, Wilson Pickett and Jay & the Americans. But, at 11, and even well into my 30s, I had no idea who Mike Angelo & The Idols were, or that they had recorded a song a year before The Wrestling
Album
was released called

"Fuck Everybody."
Vince McMahon allowed a profane song to be sung by his second-biggest star as long as he stripped out the profanity. Angelo's "kick my ass" became "kiss my trash." Other not-as profane lyrics Piper mumbled, but I do remember the clear line about how people won't be happy until he commits suicide. Well, then, stop shaving the Haiti Kid's head and hitting Jimmy Snuka on the bean with coconuts, Roddy!
So I am left with questions. Why? Why on an album with a number of cartoonish songs, did Piper record, essentially, "Fuck Everybody?" Never mind that. Why did the Junkyard Dog record a song called "Grab Them Cakes?" I didn't know what "cakes" were supposed to be as a pre-teen.
Of course, fast forward 12 years to the "Attitude Era" of "Stone Cold" Steve Austin's middle finger and D-Generation X's cries of "Suck it!" and Piper's "For Everybody" was way ahead of its time.