I tried to watch a number of stand-ups on Netflix and was somewhat baffled by my complete lack of enjoyment in them. Not that anyone should care about what I find funny. I have long known that my tastes in humor and the general consensus taste are completely different. So maybe I'm the asshole.
Case in point, when searching for stand-up specials to view on Netflix I know to avoid anything stressing a particular culture. For example, something subtitled "Red-Nexican" or called "Three Amigos" or "One Funny Hick-Spanic" will not be for me. Likewise "Pimpadelic" or "All Star Comedy Jam." Call me a racist. I just know I won't like it. And something titled "Laffapalooza!" I stay way the hell away from.
Thus I've put together my who-gives-a-shit likes and dislikes of current Netflix Stand-Up.
Dislikes

Whitney Cummings: Money Shot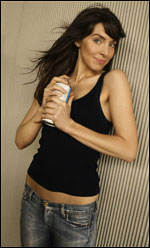 I watched this when I saw that this comedienne has a sitcom or something now and I'd never heard of her. I thought I might like it because I'm not one of those who thinks women can't be funny. Sure, it's few and far between, and Sarah Silverman spawned a lot of dirty female comics thrown out there for you to watch if they're pretty, but many of them are indeed quite entertaining. In fact, why can't anyone give Nikki Glaser or Amy Schumer a sitcom?
But Whitney Cummings is
Throw any woman you know on stage who thinks she's funny
. She's
People have told me I should do stand-up
. Again, my opinion probably blows and
holy shit, I'm watching her right now and I can't wait to turn it off
. All right, moving on.
Bo Burnham: Words, Words, Words
Where did this motherfucker come from? He plays the piano, he plays the guitar, he has his entire set typed on the wall behind him. That last one alone is reason for me to wish he'd go the way of Richard Jeni. And he's fourteen! Yes, prodigy, you're handsome, and more than a little talented, but go fuck yourself. I can't watch this horseshit.
Nick Swardson: Seriously, Who Farted?
The rap intro alone pisses me off, you white shithead. I wanted to like this fella because he's been on Opie and Anthony, and most people they like, I like. And, I've heard his
Pretend Time
show is really funny. But he's Bo Burnham's older frat brother. His opening bit about how great drinking and partying is hurt my ears, eyes, and entire head. So if I watch
Pretend Time
and enjoy it I'll delete this from here. Until then, fuck you, Nicholas.
Dane Cook: Rough Around the Edges
I once thought Cook was funny. I think that was when he was stealing other, funny comedians' jokes. Now he's been called out on that and can't do it anymore, and he's no better than Nick Swardson.
Brian Regan: Anything
I feel like I'm really missing something here. I loved Regan when I was fifteen and watching every stand-up show on MTV and A&E and shit. But his act is still like that, and therefore still like every 80s television comic. And before you say it's because he's clean, Jim Gaffigan is clean and he's hilarious, so go screw.
Now, like you care, here is a list of stand-up specials on Netflix that I found fantastic:
Patrice O'Neal: Elephant in the Room
I wrote a poem called "Patrice O'Neal is a Funny Motherfucker" because that's what he is. I don't know what else to say except I met him once and he couldn't have been less interested in meeting me. Yet I still think he's one of the funniest people on the planet.
Bill Burr: Let it Go
You should watch and listen to anything Bill Burr. His podcast, this special, every damn thing. "Let it Go" is frigging brilliant.
D
oug Stanhope: No Refunds
I wish Netflix had
all
of Stanhope's specials on Instant. Alas, we only have this one, which, like everything he does, is hilarious in the literal sense, not in the way everyone uses it these days.
Louis C.K.: Chewed Up
Same deal. Everything he does. His HBO show. His FX show. I wish all of his specials were available instantly. Holy Hanna in a handbasket, Louis CK
is
the funniest person alive. And I met him in 2007 and he was ridiculously cool.
Joe Rogan: Live
See the Bill Burr bit. Rogan's podcast is great, this special rules. He was awesome on
NewsRadio
. What more do you want?
Anything George Carlin or Eddie Izzard
You can't go wrong with anything by these two and Netflix has a lot of their stuff on Instant. Now go away.