Five years ago when the Boston Celtics won their last championship, and first since 1986, I wrote a little piece for the now-defunct
Flak Magazine
about the breaking of the Curse of Len Bias and Reggie Lewis. Since that mini-dynasty is now over, and since it's no longer online, I thought I'd post that story here.
The Curse of Len and Reggie is Broken
In October 2004 a curse was finally broken. A curse placed many, many years ago by a man who was often too drunk to put his own pants on, let alone a hex on an entire baseball franchise, was lifted thanks to a bunch of self-proclaimed "idiots." The Boston Red Sox had somehow won the World Series. Then they did it again in 2007.
Only occasionally would those celebrating the wicked pissah victories of the Sox and the three-time "Big Game" champion New England Patriots stop and ask each other, "Hey, remember the Celtics?"
Lately, Boston's longing for the yesteryear of Bird/Magic, McHale/Worthy, and Parish/Kareem has given way to the excitement over Pierce/Kobe, Garnett/Gasol, and Allen/the
Slovenian with the girl's name
. How has this happened when the Celtics were basement dwellers last year? And the year before?
As the season progressed, some wondered: Could the Celts' own 22-year championship drought also be attributed to some kind of curse? A spell? An execration? Were the Celtics, like the Red Sox and Darrin Stephens, the victims of the voodoo that you do? It was obviously black magic that brought them 16 titles in the first place. The same can be said for the Lakers' 14 championships, but everyone knows longtime Lakers GM and NBA logo silhouette Jerry West is evil.
It was only days after the Celts' last championship win in 1986 against the Houston Rockets, and just 48 hours after the Celtics drafted him, that #2 pick Len Bias of the University of Maryland dropped dead from a cocaine overdose. And the mad genius with the giant cigar in his mouth quietly said: "Oh, shit."
Arnold "Red" Auerbach, former President and vice chairman of the Celtics, had dabbled in the black arts one too many times. And it killed young Leonard Kevin Bias. Crazy? Maybe. But we're talking about a city that dumped crates of tea into its own harbor. And how else could the Celtics get Dennis Johnson for Rick Robey? Or Kevin McHale and Robert Parish for whatever garbage they sent to the Golden State Warriors?
About Bias's death, Red himself would say that the city of Boston hadn't been so shaken since the assassination of JFK (which includes Bucky Dent's home run, but not the Bill Buckner unpleasantness). No less an authority that the Reverend Jesse Jackson compared Bias's passing to those of Mozart, Mahatma Gandhi, Martin Luther King Jr., and our Lord and Savior Jesus Christ. Jackson said each of these men was "young, gifted, strong and militant, all taken in the prime of their lives...Lenny was vulnerable because all of us are vulnerable. He is being used by God to save a generation."
What could possibly take down such a man? Other than cocaine, of course.
Whether or not God saved Bias's generation, He stopped looking out for the C's. Between 1986 and 1993 the Celtics remained quite competitive, even after Larry Bird retired in '92. But then tragedy struck again in '93 when the heir apparent to the Big 3 (Bird, McHale and Parish), All-Star small forward Reggie Lewis, died of a heart attack. How could two talented men like Bias and Lewis both be struck down so young? Especially when old timers Russell, Cousy, Heinsohn, Havlicek, and especially Red, were all still alive?
After this one-two punch, the basketball gods had another idea: let's get rid of McHale and Parish and really watch this team sink.
And sink they did. McHale retired, and Parish signed with the Charlotte Hornets. Do you know how many losing seasons followed? Try eight. That's L.A. Clippers territory. Kansas City Royals even! The Celtics even brought in Dominique Wilkins and Rick Pitino, for Pete's sake. Nothing could help. They went 15-67 during the 1996-97 season! After that the Celts somehow lost out on drafting Tim Duncan, and then traded future all-star Chauncey Billups! How could the team of the aforementioned lopsided trades have this happen to them?
Eventually, in 2002, thanks to their holding onto young stars Paul Pierce and Antoine Walker, and getting Kenny Anderson in the Billups deal, the Celtics made it to the Eastern Conference Finals for the first time since 1988. They lost to the New Jersey Nets, but it seemed the Curse of Len and Reggie was losing its power.
After this close call, the gods regrouped. That's when they sent former Celtics star and new Executive Director of Basketball Operations Danny Ainge to come in and make so many trades that the team, especially remaining star Pierce, wouldn't know who they were playing with on any given night. Walker came and went twice, Anderson was gone, and the likes of Vin Baker, Ricky Davis, Gary Payton, and Tom Gugliotta all appeared in green and then vanished in the blink of an eye.
After God knows how many trades, including one huge one with Ainge's buddy and former teammate McHale, now the Vice President of Basketball Operations for the Minnesota Timberwolves, the Celtics finished 33-49 in 2005-06. They were back to their losing ways. The gods smiled.
Alas, they wouldn't be smiling for too long, because on October 28, 2006 Red Auerbach died at the age of 89. The gods panicked briefly. How would the curse continue without Red? The gods (which consists of, I don't know, "Pistol" Pete Maravich and several former Harlem Globetrotters) did manage to kill 52-year-old former Celtic point guard Dennis Johnson in February 2007 and give the team a 24-58 record, good for the second worst in the NBA that season.
But Ainge, the starting shooting guard on the 1984 and 1986 Celtics championship teams, was a trading machine. Undaunted by all the death and the losing, he sent practically the entire Celtics team to Seattle and Minneapolis for eight-time All-Star Ray Allen and 11-time All-Star and former MVP Kevin Garnett. "Thank you, Kevin McHale," Boston said. A new Big Three was born, and Boston was again praising Ainge, just as they did in his playing days.
Joining starters Pierce, Kendrick Perkins, and Rajon Rondo, Allen and Garnett brought the Celtics back to their former glory, winning 66 games, a 42-win turnaround from the previous year. Ainge added the likes of James Posey, Eddie House, P.J. Brown and Sam Cassell to build a team that was surely the greatest collection of Celtics since '86.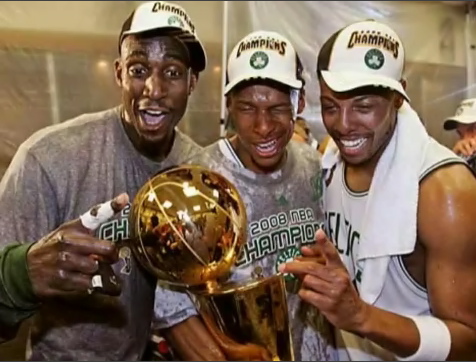 After three grueling rounds of Eastern Conference play, the Celts were on their way to their first NBA Finals in 21 years, and against their old rivals, the Los Angeles Lakers, to whom they lost in the '87 Finals.
The Green took the first two games in Boston. Then, with celebrities like Jack Nicholson, Will Smith, Humphrey Bogart, Lizzie Borden, Magellan and more looking on, the Celtics took one of three games in L.A. and left the West Coast up 3-2 amid all of these powerful celeb Lakers fans, especially Jack (Apparently one of the bullets on Nicholson's bucket list is to be knocked back to Cuckoo's Nest by Celtic Head Coach Doc Rivers.)
Then the series went back to Boston and the Celtics destroyed the Lakers in Game 6. And so the curse was broken for good, and everyone lived happily ever after.
If you still don't believe there was a Celtics curse, consider this: Lewis, Bias, and George Herman "Babe" Ruth, were all born in Maryland.
Maybe there was never a curse