Good news, everyone! Wrestlers are dying older!
Remember six years ago when everyone pretended to be up in arms because over
100 wrestlers under the age of 50
had died in the previous decade? Well, those days are over, Jack. In fact, my short, lazy research finds not a single wrestler less than a half-century old dropping dead since the spring of 2011. And even then it was someone named Chip Fairway, who I think might have been a character in Caddyshack.
If you think back to the summer of 2010, Trent Acid, JC Bailey and Lance Cade all died in their late 20s. No one cared. You, imaginary reader, surely didn't, but it happened. Then I don't find any wrestlers under 34 dropping dead in 2011. And do you know who we can thank?
That's right. The "Macho Man" Randy Savage.
When Savage passed away in May 2011 at the age of 58 many of us were sad. But just as he did in his heyday, the Macho Man raised the bar. Suddenly wrestlers started hanging on. Even midget wrestler Little Tokyo held on until age 71 when he died four months after Savage.
By the time we were a quarter of the way into 2012, the average age for a dead wrestler that year was 56 years, seven months. And you would have had to be familiar with former Universal Wrestling Federation Television Champion Savannah Jack or powerlifter and tag team champion Doug Furnas to even shed a tear.
But by last fall, 50 and 60-something former wrestlers were dying like 30-year-olds were ten years ago. Bobby Jaggers, who formed the tag team the Kansas Jayhawks with "Dirty" Dutch Mantel in the NWA during the mid-80s, died in September at 64.
In October, Mike Graham, 61, died from a self-inflicted gunshot wound, just as his father Eddie Graham did nearly 28 years before. Five days later, Dave Deaton, who wrestled as one of the masked Thunderfoots (Thunderfeet?), drowned in the Missouri River.
November 2012 was particularly nasty as Brad Armstrong died from "medical distress" on the first of that month. Armstrong spent many great years in the NWA, UWF and WCW, but it was his brother Brian who had the most success in the family, wrestling as "The Road Dogg" Jesse James as part of the New Age Outlaws and D-Generation X in the WWE in the late 90s and early 2000s.
Then, something I only found out yesterday, Awesome Kong died on November 17. Kong's real name was Dwain McCullough and, as his ring name would indicate, he was a monster, most notably defeating Jerry "the King" Lawler for the USWA title and teaming with another Kong to wrestle Ric Flair and Sting at Clash of the Champions 24. McCullough later spent some time in prison, presumably for something to do with steroids, but I ain't asking any questions.
Finally, on November 29, "Freebird" Buddy Roberts joined his former tag team partner Terry "Bamm Bamm" Gordy in the Dead Wrestler Society, dying of pneumonia at age 65. Anyone who's seen the WWE documentary The Triumph and Tragedy of World Class Championship Wrestling saw Buddy talking through a voice box, which was quite depressing.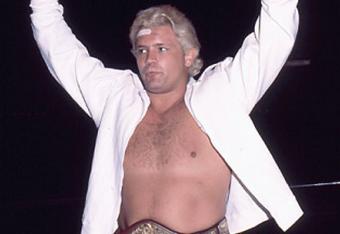 Now in 2013, what have we had so far? Well, the only one of these guys to get any write ups after death (and a lot of ribbing from CM Punk on Monday Night Raw thanks to his gimmick with the Undertaker) was William Moody, AKA Percy Pringle III, AKA Paul Bearer, dead at the age of 58. But a month before Moody died, and this I also just learned, Spike, of the mid-80s NWA tag team the MOD Squad, passed away at age 52. Spike's real name was James Jefferson. Which reminds me - I still need a partner to dress in old women's clothing with me to wrestle as The Maude Squad.
Now, my dear, non-existent reader, you might say that men in the 50s and 60s drop dead all the time. And, yes, I'm sure some of you have even killed them yourselves. But picture, if you would, 10 to 12 baseball players you watched as a youth, whose cards you collected, dying in just 12 months. Let's say Darrell Porter, Alfredo Griffin, Carney Lansford, Dane Iorg, Garth Iorg, Kent Tekulve, Ron Kittle, Len Sakata, Rusty Kuntz and Rick Burleson all died in the same year. Holy crap! Where did I pull those names from? None of them better die in the next few months or I'm fucked.
So while the list in 2007 was so long that The Sun decided they didn't need to include any wrestlers born before American Bandstand premiered, dying in your 50s and 60s is still not advisable, even for a wrestler. Stan Stasiak, Giant Haystacks, Hiro Matsuda, Gorilla Monsoon , Giant Baba, Wahoo McDaniel, Nelson Royal, Moondog Spot, Pez Whatley, Ernie Ladd and Bad News Brown weren't on that list, but they all died in their 50s or 60s between 1997 and 2007.
So, whether this new trend is the Macho Man's doing or wrestlers are just giving up the business and installing air conditioners for a living, death is death. And I salute these fallen men as they battle in the great squared circle in the sky.