So I was thinking of how that Limey putz Richard Dawkins just died, only it wasn't Richard
Dawkins
; it was Richard
Dawson
. Then I got a little sad because I liked that Limey, but he was 79, and most 79-year-olds die. Still, it might have been great to follow Christopher Hitchens's death with that of another English atheist, and then, you know can Ricky Gervais be far behind? But I'm not like that, really. I mean thinking deaths really come is threes and shit.
Then I found this horseshit list I wrote seven years ago after visiting England, and I thought, since no one reads my stupid blog anyway, why not post this on it?
So cheers. And keep it mind, I wrote this in 2005 and it's unedited.
47. Lillywhites – This struck me as a very racist name for a department store in the middle of Piccadilly Circus. There is also a place in Quorn called "Threeways." I don't know what they do, but we're going there next trip.
46. Sherlock Holmes – There's a Sherlock Holmes Museum, which I didn't know. We didn't make it there. Maybe next time. Great list so far, eh?
45. ATM/cash machine – I didn't see any "ATM's" in England. They were mostly called "cash machines," which makes all the frigging sense in the world. Who came up with "Automated Teller Machine?" We Americans always have to make things so damn confusing just to abbreviate something. Plus it pisses me off when people say "ATM machine." Idiot, that's what the M stands for.
44. Big Bus Company – This is the bus we took around London. They're also in Philadelphia and Dubai. I know. WTF? Anyway, it's a double-decker bus with no roof on the top deck (Duh, like they'd have a roof on the top deck, but not on the first one). So it's pretty damn cold on the top in November. Also, we had to wait around for, like, fifteen minutes a couple of times for the damn bus to even show. Fuckers. You pay 20 pounds for the shit and you have to wait in the cold for fifteen minutes.
43. Centigrade – We call it Celsius and have no use for it whatsoever. The weatherman will say, "It's six outside right now." You'll be like, "What? It doesn't feel like six!" But it's fucking Centigrade.
42. "Love in a Lift" – They, of course, call elevators "lifts." So the Aerosmith song was in my head a lot of the time. Sing it. It doesn't really work with "lift."
41. Cursing - They give much less of a shit about naughty words than we do. We're such fuckers.
40. Samantha Fox – Topless model, singer. Hits include "Touch Me," "Naughty Girls Need Love Too," I Wanna Have Some Fun."
39. Toilet/Loo – Why do we call them "restrooms?" They're frigging toilets. God, those British are so smart. I didn't hear the word "loo" nearly as often as I would have liked. But I did get a kick out of saying, "The toilet's engaged" or "Hey, babe, the toilet and us have something in common. We're engaged."
38. The accents – I've always loved the British accent; although, after a week straight, it starts to wear on you.
37. Guy Fawkes Day – They celebrate his total failure at trying to blow up Parliament. It is not, as I first thought, a celebration of a terrorist. Like if the U.S. had Timothy McVeigh Day. And it's not Guy Fox. That's the guy from "Sanford & Son."
36. The British Bulldogs – WWF tag team champions in the mid-80s, The Dynamite Kid and Davey Boy Smith. Managed by Captain Lou Albano, ole rubber band face. Dynamite developed back issues and has long been confined to a wheelchair. Smith had bad drugs problems, which led to his death in 2002.
35. "Mind the Gap" – Whereas we say "Watch your step," they "mind" things over there. Again, this makes total sense because you're not gonna keep watching something. When you exit the subway, a voice tells you to "Mind the Gap" between the subway and the platform. Over and over. Good thing, because you will fall if you don't pay attention. It's a pretty big fucking gap. They have hats, T-shirts and all sorts of shit with "Mind the Gap" on it.
34. "This train is for Cockfosters" – This is what it said on the train we took from Heathrow to our hotel. Whether this was the last stop on the train or I was being insulted, I'm still repeating this phrase and calling people "cockfoster."
33. "I see London, I see France" – I don't know what this sing-song phrase's origins are, but damnit if I'm not singing it regardless of whether I see anyone's underpants.
32. "Way Out" and "Give Way" – These are signs you'll see in lieu of our "Exit" and "Yield" signs, respectively. This is where the English don't make as much sense. Still, remember the Flintstones episode that had a band called the Wayouts? Have that stupid song in me head still.
31. Olivia Williams – Stunning British actress in films "The Sixth Sense" and "Rushmore"
30. Waterloo – Another song constantly in my head thanks to those limeys.
29. Jack the Ripper Tour – Love American serial killers but longing for a tour of, say, Gacy's basement or Dahmer's refrigerator? Wait no more. The Brits have the Jack the Ripper tour. And, no, it has nothing to do with the sitcom "Three's Company."
28. The pound. Also known as "Quid." When we got into Heathrow I bought a coffee for 1.95 in British pounds. Then said, idiot, you just spent $3.50 for a cup of coffee. Instant, by the way. And you don't even get a free refill. It's also weird to give a guy 10 pounds for a 5.37 tab and get nothing but change back. Still, you have to respect the English for refusing to go along with the Euro. Stubborn bastards. We ate at an Italian place and they gave us each a piece of bread and some butter. Later, the bill showed that it was 90p for each piece of bread, or, like, $1.60.
27. Humpty Dumpty/Richard III – I learned that Humpty Dumpty was based on Richard III. He was torn to shreds in battle and they couldn't put him back together again. Nice.
26. Full English Breakfast – Fried egg, Danish bacon, sausage, toast, tomato, mushroom, and…blood pudding. They ask you if you want the blood pudding. I don't know what it is. It could be cheese and menstrual blood for all I know.
25. "Sorry, love." – So polite. A man knocked into my fiancé and said, "Sorry, love." Then I kicked his ass.
24. Peter Pan statue – We never found this statue because the map said it's in Kensington Gardens. We later were told it's in Hyde Park.
23. Cricket – No, it's not a gay form of baseball. It's actually pretty cool when you watch it, especially when the bowler (pitcher) runs and throws the ball, bouncing it off the ground. The catcher is called the Wicket Keeper. Sounds very Harry Potter.
22. Female cast of Coupling – Hot, hot, hot. Gina Bellman (Jane), Sarah Alexander (Susan), Kate Isitt (Sally)
21. The London Eye – We chose not to pay nearly $50 to ride a Ferris wheel.
20. Buckingham Palace – Just because
19. Fanny/bugger off – "Fanny," a lame, childish word for your butt in America, means the frontal naughty bits of a woman in England. Nice. And "Bugger off" is apparently pretty vulgar as well.
18. "London Bridge is falling down…" – Try touring The Tower of London without singing this the whole time.
17. No U.S. conservatives – Only 15-20% of Americans have passports. A large majority are certainly liberals. So go and enjoy not hearing any American conservative shite.
16. Kensington Gardens – Beautiful park where we searched for Peter Pan. If you're carrying bread nearby Round Pond (rightfully named; it's quite round) you will be swarmed by pigeons, swans and other birds.
15. British bands - My favorite classic rock bands are Birtish: The Beatles, The Who, The Stones, Led Zeppelin, Eric Clapton, Jimi Hendrix (Okay, Hendrix wasn't British, but, like Sylvia Plath, he knew London was the place to live and die in the 60s.). Amy also likes English bands, though more current ones, like Keane, The Dead 60s, Coldplay, Blur, Duran Duran, Robbie Williams. I think they're all British. I don't know.
14. Piccadilly Circus – Like Times Square. Only not.
13. A Clockwork Orange – wonderful Anthony Burgess novel, wonderful Stanley Kubrick movie starring Malcolm McDowell (1971). Introduced us to Nadsat, a Russian-based slang that the main characters speak.
12. Rugby – NFL players are pussies.
11. Nudity – I picked up something called Saturday Sport. Chock full of nudity. Featuring Cameron Diaz as the "Twat of the Day," many topless photos, all stories involving sex, violence, sports, or celebrity. Lots of sex ads, but the vag shots are edited. Fucking prudes.
10. Zoo and Nuts – Two British magazines, like Maxim and FHM, a little smaller, but weekly and with nudity. Cheaper too. 1 pound 30, or less than $2.50.
9. Paddington – statue of the adorable Peruvian cartoon bear. We passed it on the bus, but I frigging missed it.
8. Royal Albert Hall/Prince Albert Memorial – Nice to see the namesake of my piercing.
7. Tower of London – Sir Thomas More, Sir Walter Raleigh, Rudolf Hess were all imprisoned and/or hung/hanged there. Amy's favorite, Lady Jane Gray, was also executed there. The Ravens are also cool.
6. Rik Mayall – comic genius behind The Young Ones, Bottom and Filthy Rich and Catflap. Starred in these shows with Adrian Edmondson. New hilarious book, Bigger Than Hitler, Better Than Christ; starred with Phoebe Cates in Drop Dead Fred.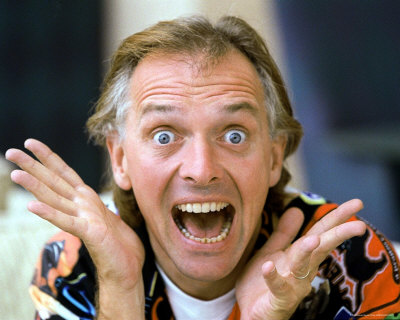 5. Language differences – Already discussed, really. Except the words "bloody" and "brilliant," which I love. If you show up somewhere on time, they say, "Ah, brilliant!"
4. Big Ben/Parliament – Hey, look, kids. Big Ben.
3. Monty Python – Sketch comedy at its funniest. Also Fawlty Towers. I want to visit the building where Fawlty Towers took place.
2. The Beatles – greatest rock band of all time. John Lennon: genius.
1. Driving on left side – I couldn't get used to it as a pedestrian. I couldn't imagine driving.
Right, that's it then. Jolly good of you for reading all the way through. Now piss off.