The girls of television that were the unattainable loves of my life in my youth. Sad, really. But here goes:
Andrea Elson, Alf
I remember the episode in which Alf fell for Lynne and wrote a song for her.
That furry bastard had some taste. And I still remember the song, "You're The
One Who's Out Of This World." Good Lord.

Kari Michaelson, Gimme A Break
As a youth I watched this show starring Nell Carter and Joey Lawrence. I don't
remember any of the other girls on this show. I just recall digging Kari A LOT
and erroneously thinking that if I married her I'd be Michael Michaelson. What a
little tool!
Allison Smith and Ari Meyers, Kate & Allie
These two little hotties were Kate and Allie's daughters, Jenny and Emma. The
show wanted us to believe that Jennie was popular, while Emma wasn't. Meanwhile,
they were both equally hot. Well, maybe Jennie (Allison Smith) was a little
hotter, but Ari Meyers is still in a lot of crossword puzzles because of her
short, easy-to-use, first name.
Traci Gold, Growing Pains
I remember thinking this was a really funny show and that Traci was kinda cute.
I also really liked the girl who played Kirk Cameron's girlfriend and that he
wouldn't do certain things with her because he's a Jesus freak. Tool.
Maureen Flannigan, Out of This World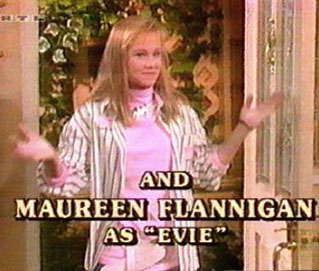 This was a stupid show about a girl who's an alien or something. Evie was hot,
hot, hot.
Brooke Theiss and Jamie Luner, Just the Ten of Us
This was a Growing Pains spin-off, I believe. There were eight kids, including
two smoking hot daughters. What the hell ever happened to Brooke Theiss? There
was absolutely no other reason to watch this piece of garbage.
Lara Piper and Khrystyne Haje, Head of the Class
Don't know what happened to either of them. Lara Piper joined the cast last in
the show.

***Correction: Thanks to Mr. Jason Shifrin, The Unpublishables has learned that Lara Piper is a talented and beautiful sculpturess. Thanks, J.S.!
Nicole Eggert and Josie Davis, Charles In Charge
Holy crap! Nicole Eggert was hot! The other girl was pretty damn cute too.

***Hmm. Now that I look at her again, Josie Davis looks a little like "Beautiful" Bobby Eaton of the Midnight Express.
Angela Goethals, Phenom
In 1993 there was a sitcom on ABC called Phenom, starring Judith Light and
16-year-old Angela Goethals. I was 19 and watched every episode of that stupid
show because of Angela. They did not get any cuter.
These are just a few of many. Add yours if you'd like. I could use the damn comments.