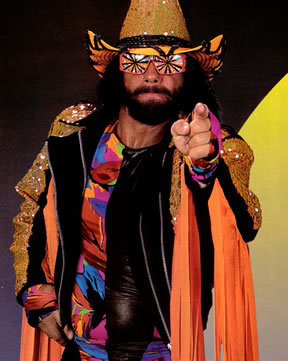 With the recent death on "Macho Man" Randy Savage, the public was once again awakened to the mortality rate of professional wrestlers.
Some even used the following day's alleged rapture to pair the two with some
comedy
, because the only thing more hilarious than the death of a 58-year-old father is full-fledged sacrilege and blasphemy.
Still others, such as The Wrestling Observer newsletter (Who knew that still existed?) and
Yahoo!
used the Macho Man's death to discover that over 25 percent of the performers at Wrestlemania VII are now deceased.
While to the public professional wrestling is and has always been Vince McMahon and the WWF/WWE, wrestling as a whole existed before and continues to exist outside of Stamford, Connecticut. And while McMahon's expansion in the 80s and the subsequent elimination of "territories" were things that perhaps lead to an increase in the overall death rate, there are other organizations to consider. It's not like Wrestlemania in general, or Wrestlamania VII in particular, is cursed. One need only examine other events before and after April of 1991 to see this.
Fritz Von Erich's World Class Championship Wrestling, which folded in 1988, was every bit the "death mill," as Phil Mushnick called WWE, that McMahon's company is. A look at the performers at WCCW's last big event,
Parade of Champions V
, shows that seven out of 24, or 29 percent, of the wrestlers at that card are now deceased.
Taking place just three years prior to WM VII, on May 8, 1988, the final Parade of Champions has seen the Missing Link, Angel of Death, Jeff Raitz, Terry Gordy, Chris Adams, Bruiser Brody and Kerry Von Erich all pass away.
Of course, pointing this out wouldn't have earned The Observer all that recognition the way McMahon's big event did.
WWE's chief competitor in the 90s, the now defunct World Championship Wrestling, can boast similar percentages while giving the rival a year or more.
WCW's Great American Bash in '92 has a 28 percent death rate, after the passings of Brian Pillman, Rick Rude, Shinya Hashimoto, Steve Williams and Terry Gordy.
Give WWE a five year advantage, and WCW's SuperBrawl VI is at 22 percent (Johnny Grunge, Rocco Rock, Pillman, Road Warrior Hawk, and Savage). Their Bash at the Beach event later that year rates at 23 percent (Ray Traylor, John Tenta, Grunge, Rocco, Chris Benoit, and Savage), while Uncensored '97 weighs in at 24 percent (Eddie Guerrero, Mortis, Grunge, Rocco, Savage, and Benoit).
One need only go back 12 years, rather than 20, to get rates in the twenties. In 1999, one WCW event rates at 21 percent – Bash at the Beach (Bobby Duncum Jr, Curt Henning, Grunge, Rocco, Benoit, Bam Bam Bigelow, Kanyon and Savage) - , while another saw 23 percent go (Duncum, Henning, Kanyon, Benoit and Savage).
But it was Road Wild '99, in August of that year, that nearly matches WWE eight years earlier with 25 percent of the performers at that card dying (Guerrero, Bigelow, Kanyon, Duncum Jr. Henning, Benoit and Savage).
At World War 3 '97, WCW put them all in one ring at the same time. In a 60-man battle royal that year, 11 of the participants (a mere 18 percent) have passed on (Chris Adams, Benoit, Henning, Guerrero, Grunge, Rocco, Louis Spicolli, Mortis, Savage, Traylor, and the Renegade).
Another former rival, Extreme Championship Wrestling, comes in at 22 percent for their Heat Wave '98 event, with Bigelow, Chris Candido, Mike Awesome, and Big Dick Dudley all gone.
And while major cards for Stu Hart's defunct Stampede Wrestling of the 80s are hard to find, this
site
that lists matches from 1988 includes deceased grapplers Benoit, Pillman, Bad News Allen, Biff Wellington, Makhan Singh, Kerry Brown, Hashif Khan, Owen Hart, Lance Idol, Davey Boy Smith, and Larry Cameron.
The moral here is that, unlike anything Phil Mushnik or CNN or The Wrestling Observer, or anyone, would have you believe, Vince McMahon isn't killing all of these wrestlers. I could put together a list of guys who never set foot in WWE who died young because professional wrestling, sport or not, isn't for everyone. Plenty of wrestlers died young from 1930 to 1985. Then the business exploded and there were more wrestlers, thus a high number of them dying. Increase in travel plus the advent of hardcore wrestling equals a ridiculous number of deaths. More than any "real sport," I can promise you.