Originally posted on
FlakMag.com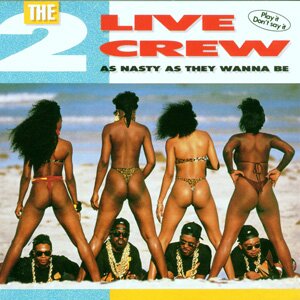 There are many great summer songs. Some point to the Lovin' Spoonful's "Summer in the City." Heavy rockers may cite Alice Cooper's "School's Out." Still, others sing the praises of "Summer of '69," Bryan Adams's love ballad about the Tate-LaBianca murders. As for me, I always think back to the summer of '89; the season of the Tiananmen Square protests and the death of Ayatollah Khomeini. But that summer there was one group who caught my attention like never before; a group who took on a nation; a group whose love songs touched a generation. That group was 2 Live Crew.
See, the summers of my pre-teen and teen years were spent with a friend — platonic, of course — named Robbie. He would come up to Massachusetts every summer from Florida. Each year we would hang out, play RBI Baseball on Nintendo, watch filthy movies on cable late into the night. Whatever.
In years past, Robbie had proven to have questionable tastes in music. Not that my summer of '88 playlist of Cinderella, Europe and Britny Fox wasn't itself atrocious, but Robbie, a full two years older than I, was somehow really into Rick Astley and Johnny Hates Jazz: yes, the deep-voiced, marionette-looking redhead (to be "Rickrolled," click here) and the one-hit wonder who gave us "Shattered Dreams." Come the summer of '89 it was more hideous hair bands for yours truly — White Lion, Mr. Big and Danger Danger — and whatever it was Robbie was listening to at the time.
Earlier that year, 2 Live Crew released their album As Nasty As They Wanna Be, along with the single "Me So Horny." What followed was an embarrassing, Lenny Bruce-like witch hunt about censorship and obscenity. Needless to say, that record touched two young boys in a very special way, in a way that nothing else could — until Andrew "Dice" Clay's comedy double album The Day the Laughter Died came out a year later. But with songs as delightful and catchy as "Put Her in the Buck," "Dick Almighty" and "The Fuck Shop," how could this not have been the album Robbie and I would listen throughout the summer?
With this controversial release, the group had far outdone their previous album, Move Somethin', and was battling the likes of Public Enemy, N.W.A., and even the Fat Boys (with their past summer hits, "Wipeout" and "The Twist") to become my favorite hip-hop group, and Robbie's as well. As Nasty As They Want to Be brought me closer to my best friend.
Long story tragically short, Robbie ended up being killed by a drunk driver the night of the Super Bowl in 1992. That was the day the laughter, and the music, died. And not just 2 Live Crew, but Astley and Johnny Hates Jazz as well. They all just dropped off the face of the earth. But, when I think of summer music today, I think of Robbie. And then I think of 2 Live Crew, and I sing, whether I'm in the shower, at Chuck E. Cheese's or at Sunday Mass with my wife and her family, "Me So Horny." The dirty version.