8. Debra "Madusa" Miceli
In the late 80s a beautiful, yet kick ass, lady appeared on the pro wrestling scene. Her name was Madusa Miceli and when the American Wrestling Association couldn't contain her, she went to Ted Turner's World Championship Wrestling, 'cause that's what super bad ass Italian babes do.
In WCW she went only as Madusa and won a famous bikini contest against Missy Hyatt due to the "heel" judging of Jesse "the Body" Ventura. She jumped to the WWF in 1993, taking the name Alundra Blayze, then went back to WCW, even throwing the WWF Women's Title in the trash on live television. Today, she's one up on former wrestling valets Sensational Sherri and Miss Elizabeth in that Madusa is still alive.
7. Valerie Bertinelli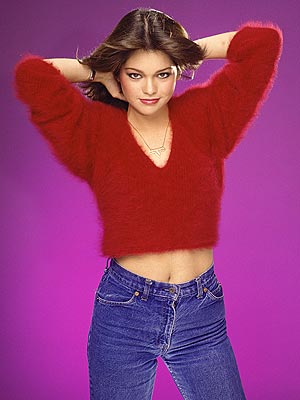 Former Mrs. Eddie Van Halen, now a shill for Jennie Craig, Valerie was the beautiful and non-drugged out daughter on One Day at a Time. I would follow her like a dog through her horrible late 80s sitcom Syndey, which also starred Daniel Baldwin and a young Matthew Perry, and the equally bad early 90s comedy Cafe American.
Picture The Mary Tyler Moore Show in France, only completely shitty and unwatchable. By far my favorite Valerie film was the 1981 Comedy/Drama The Princess and the Cabbie, about a young woman (Valerie) who works to overcome her dyslexia with the help of a good-hearted cab driver (Robert Desiderio). She was absolutely adorable in that silly-ass flick, which also featured a pre-Cheers Shelley Long. Wolfgang's mom has got it goin' on.

6. Audrey Hepburn
This Academy-award winning Anglo-Dutch actress overcame growing up under Nazi rule to become one of the greats in all of motion pictures. The star of such films as Roman Holiday, Sabrina, and Breakfast at Tiffany's, in her later years she was a UNICEF Goodwill Ambassador and still pretty darn hot (Hey, if I had it for 40-year-olds, why not 60?).