Dr. Laura, Dr. Laura. Did you have to say the word nine times? Sure, that equals one verse in a typical rap song, but still. You're Dr. Laura. They nearly hanged Don Imus for "nappy headed hoes." What made you think you could survive it?
The death of free speech aside, it's a time of healing in this great nation of ours. Dr, Laura, Mel Gibson. The Avenue Q puppets said, "Everyone's a little bit racist." Nonetheless, we all get outraged and protest and boycott. Where am I going with this? I present The Top 20 Pre-Dr. Laura Racial Oopies. Part 1 of a four part series, numbers 16-20.
20. Rush Limbaugh
The real question here was why, after the Dennis Miller debacle, did ABC and ESPN want Limbaugh as a football commentator in the first place? Nonetheless, the conservative radio host was silly enough, perhaps thinking he was on his own show, to make a
racial remark
on ESPN's Sunday NFL Countdown in 2003. About then-Philadelphia Eagles quarterback Donovan McNabb, Limbaugh said, "Sorry to say this, I don't think he's been that good from the get-go. I think what we've had here is a little social concern in the NFL. The media has been very desirous that a black quarterback do well. There is a little hope invested in McNabb, and he got a lot of credit for the performance of this team that he didn't deserve. The defense carried this team." Limbaugh resigned a week later, even though he began his controversial statement with an apology. See, even getting that out of the way first won't help you later.
19. Bob Grant
What can you say about the longtime radio host? He has promoted the "Bob Grant Mandatory Sterilization Program" on his show, which calls for the sterilization of women receiving welfare payments during childbearing age. He has also, on numerous occasions, referred to black people as "savages." Grant has stated that he has only referred to black rioters as "savages." He once referred to former New York City mayor David Dinkins as "the men's room attendant at the 21 Club. You gotta love this controversial son of a bitch.
18. The April 2008 Cover of Vogue
Vogue magazine finally put a black man on the cover of their silly magazine, and, boy, did they ever pay for it. The simple picture of NBA star LeBron James and supermodel Gisele Bundchen was deemed as racist by many. After all, most photos of an excited, athletic black man and a beautiful white woman invoke thoughts of the film King Kong. One blogger wrote that James was "perpetuating a stereotype (that of a brutal wild savage) that helped enslave, lynch and murder hundreds of THOUSANDS of our black men for centuries." Jeez, and you thought he was just a basketball player. Vogue later stated they would never again put an African-American on their cover. Well, no, they didn't, but they should have.
17. Al Campanis
Former Dodgers player Campanis was discussing his contemporary and former teammate Jackie Robinson in 1987 on the 40th anniversary of Robinson's debut in the Majors. Nightline's Ted Koppel asked Campanis why there were so few black managers and no black general managers back in the day. His response, the silly man, was that blacks "may not have some of the necessities to be, let's say, a field manager, or, perhaps, a general manager for these positions." Campanis, showing off his knowledge of other sports, as well as physics, also stated that blacks are bad swimmers "because they don't have the buoyancy." Perhaps this is why Michael Phelps wins so many gold medals.
16. Marge Schott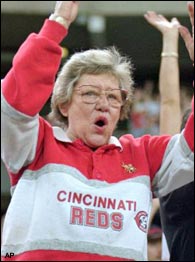 You'd need a lot more space to fully discuss Schott, the former managing general partner, president and CEO of the Cincinnati Reds who died in 2004. She caused a lot of controversy in the 90s with her free use of the N-word, and other personality traits. It 1992 it came out that Schott had once referred to then-Reds outfielders Eric Davis and Dave Parker as her "million-dollar niggers." People were outraged, mainly because she left out Barry Larkin, forgetting that Larkin was merely a rookie when Davids and Parker were on the team.
A former executive assistant for the Oakland Athletics told the New York Times that Schott had said, "I would never hire another nigger. I'd rather have a trained monkey working for me than a nigger," For what it's worth, Schott also had a good go at the Jews, allegedly wearing a swastika armband in her home, praising Adolf Hitler, and referring to Jews as "sneaky." Rest in peace, crazy lady.